I have always been wary of publishing testimonies, but Holy Spirit spoke to me about this and said that not doing it does not glorify God and what He is doing, so I prefer to publish other people's testimonies:
Rev. Shakeel Francis – Senior Pastor of Philadelphia Pentecostal Church of Pakistan
Brother Chris and Sister Marietha, Thank you very much for visiting Pakistan and spending time with us. God did many miracles physically and spiritually everywhere you went and preached the Gospel. Hallelujah!
One pregnant lady's baby's position was not right, after prayer on Sunday service she got the baby's position right. One man was shot by robbers. His wife came to church believing that her husband will walk that day. After prayer he could step on earth properly.
Many testimonies from Nazrat Colony on Monday Night. We are doing a follow up visit to perceive the Lord's work among people and we found it wonderful. We shall send other testimonies after further follow up. All is for the glory of God and we thank God for your humble souls and prayer concerns for the needy people and what a wonderful and glorious happiness it is when the Good news goes through the lives of the people and they get changed and go deeper in Christ. Thank for the vision God has given your church and pastor and you.  What a wonderful and busy week it was. I know sometimes you were tired, God will reward it, you performed best for His glory and we could see His work in every meeting when many testimonies came in during and after the meetings. Praise God for that.
Pastor Naveed Anjum – Faizalabad, Pakistan
We are much happy to share with you that your ministry trip to Pakistan is proving very fruitful and that many people from the places you preached at here in Pakistan are sharing their witnesses with us. They got blessed and felt the touch of Holy Spirit.
Answered prayer averting Tragedy – as told by Pastor Shakeel – Faizalabad, Pakistan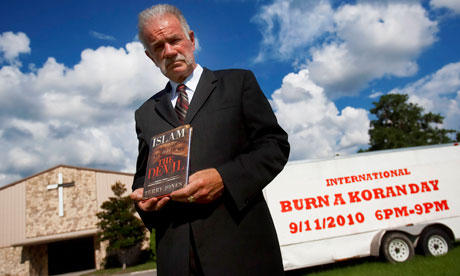 Pastor Terry Jones, in Florida, where he supervised the burning of the Qur'an by a fellow pastor, Wayne Sapp, on 20 March 2011.
Shortly after this incident was broadcast in Pakistan, Muslims vowed to burn Christians just like these men had burned their Holy Book. In the Province next to Faizalabad many Christian's houses were bernt down and 4 Christian people died in their blazing houses.
One Friday the members of the church heard it announced in the Mosque that the next Friday at 12h00 when they left the Mosque they would burn Christians' houses. (In Pakistan there are suburbs that are populated mainly by Christians, called The Christian Quarter – a remnant of the British occupation where the British separated the different factions.)
Pastor Shakeel called a 3 day fasting and prayer to cry out to God for deliverance! Many Christians sent their families to relatives outside Faizalabad and the church was full as they prayed round the clock while fasting from the Sunday until the Wednesday. On Friday at 12h00 the heavens opened and torrential rain poured down, within a short time the water was knee deep in the streets! Not only would nothing burn but people could not walk in the streets. The Muslims announced that the burning was postponed to the next Friday due to rain. The next Friday at 12h00 the heavens opened again and torrential rain poured down, within a short time the water was knee deep in the streets! By the next week the anger had cooled and no burning took place.
The lesson apart from the fervent and faithful prayer of the Pakistani believers and God's response with a wonderful miracle, is that it is important to note that our actions affect others, and so many believers are killed or wounded by 'friendly fire' from those supposedly on the same side! We are responsible to God for the direct and indirect effects of our actions! A sobering thought…surely it is time for the Fear of the Lord to be released into the Church.